Kraków is the second largest city in Poland, and situated on the banks of the Wisla (Vistula) River. 
It is a destination steeped in history with legends of knights slaying the Wawel Dragon, however modern Kraków holds no myths – it is a budget-friendly city with medieval buildings, welcoming people and a wide variety of interesting bars and restaurants.
What to see
Wawel Castle and Cathedral are iconic to Polish heritage and the ancient seat of Polish kings. Located on Wawel Hill, the castle has been destroyed and renovated over the centuries in varying styles including Gothic and Renaissance. Today, tourists can visit the stately rooms with tapestries, armour and carvings.  The Wawel Cathedral has stunning religious art and holds tombs of Polish monarchs and national heroes.
Rynek Glówny (Market Square) is the geographic and symbolic center of Kraków, and the largest medieval town square in Europe. The main landmark is Cloth Hall, a 14th century building used for cloth vendors that now hosts caféterias and shops selling souvenirs, pottery and embroidered linens. At the eastern edge of the square, you can visit the 13th century Gothic church Koscicl Mariacki (St Marys Basilica) with towers of differing heights and a recording of a trumpeter that plays on the hour.  The square also contains the Town Hall Tower and a monument to a famous poet, Adam Mickiewicz.
Wieliczka Salt Mine is one of Poland's main tourist attractions and has been UNESCO World Heritage listed since 1978.  This huge salt mine 14 kilometers from Kraków is not recommended for those prone to claustrophobia – as you tour beneath the earth's surface you'll view an underground lake, corridors, statues, chandeliers and incredible chapels all carved out of rock salt. 
What to do
Search out a picnic spot along the Wisla Boulevards lining both banks of the Wisla River. Visitors can walk from Salwator to Kazimierz and Podgorze or cycle at their own pace along the designated pathways admiring the scenery.
Polish cuisine has multi-cultural influences and you'll find hearty, delicious food everywhere.  Venture to the Plac Nowy market for zapiekanka topped with oscypek (baguette topped with smoked sheep's cheese). Or reserve a table at Introligatornia Smaku Restaurant in the Kazimierz district and await a menu so you can order ox cheeks or beetroot soup.
A short distance from the city, Skalki Twardowskiego is a nature reserve popular for walking, biking, and rock climbing.  The limestone quarry lake glimmers a brilliant turquoise, and if you hike from the reservoir side to the top of the climbing rock you'll be rewarded with views back to Kraków.
Nearby things to see and do
Auschwitz I and Auschtwitz II-Birkenau
Many tourists to Kraków venture one hour from Kraków to the concentration and death camps of Auschwitz I and Auschtwitz II-Birkenau to see the eerie remnants of a past that Poland wishes never happened.  An experience not for everyone, you can expect to see deserted barracks, the harrowing gas chambers and preserved clothing including shoes of the prisoners.  Visit early to avoid queues from scheduled tour groups.

Tatrzanski Park Narodowy
Located in the Carpathian Mountains south of Kraków is the Malopolska province with picturesque National Parks like the Tatrzanski Park Narodowy (Tatra National Park), a mere 100 kilometers from Kraków. This stunning area has alpine lakes, rugged mountains and rare flora and fauna. Ride a cable car from Kuznice to the summit of Kasprowy Wierch (1985 meters) for expansive views.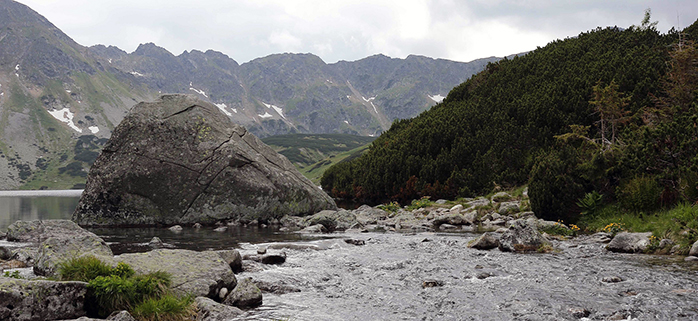 Tarnów
For a quieter city experience, drive 80 kilometers east of Kraków to the city of Tarnów. Tarnów has many charms including a pretty Old Town with lovely Cathedral, one of the oldest Jewish Cemeteries in Poland, and Strzelecki Park a large public green area with duck ponds and play ground. Take a small detour to the Museum of Antique Interiors at the 15th century Dębno Castle.
Top car offers in Kraków